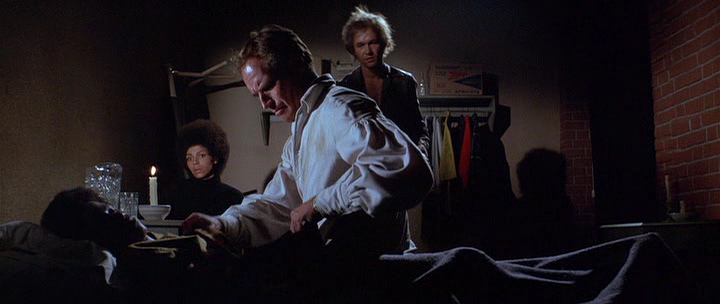 April 25, 2008
The Omega Man (1971) **1/2
Directed by Boris Sagal
Let me tell you. I wasn't thrilled to find out that the latest Filmspotting Marathon was going to be 70s Sci-Fi. I don't really like sci-fi as much as other genres and I argue that science fiction gets better as special effects get better. Of course, there are exceptions to the rule—Star Wars being the most obvious. So over the next six weeks, I have to watch such cinematic non-gems as The Omega Man, The Andromeda Strain, Silent Running, Soylent Green, Logan's Run and The Man Who Fell to Earth. I've never seen any of these films all the way through (I have seen parts of The Man Who Fell to Earth and I remember it as unbelievably strange!). So, The Omega Man had a lot riding on its shoulders. This is really my doorway into 70s sci-fi. So am I any happier now that I have to take this journey?
Well let me hold off my answer for now and simply talk about the film itself. I had a good time with The Omega Man. It is exploitative camp, pure and simple and I feel like it knew exactly how silly it was and embraced that. Sagal seems to know that his film is quite ridiculous and lame. Therefore, it's hard to criticize and it's actually easy to like. Yes, I guess I will say that I liked The Omega Man.
That being said, this isn't a good movie. It just isn't. As much as I can appreciate the "so bad its good" shtick, I simply cannot ignore that Heston's acting is pretty awful (I have yet to see a Charlton Heston performance with any depth), the special effects and violence are laughable, the villains and their makeup are amateur, the suspense and thrills do not exist and the Christ/messiah imagery and dialogue is extremely heavy-handed.
The film's best aspect is Rosalind Cash as Lisa, one of the remaining holdouts who saves Heston's Robert Neville and eventually gives his life purpose. She introduces him to a man named Dutch (Paul Koslo) who lives with Lisa, Lisa's brother Richie and other kids who have so far resisted the disease. Robert, who is the only human to have the antidote running through his blood, saves Richie from becoming a nocturnal bad guy by infusing his blood into the boy. The idea is that now Richie can use his blood to help the kids become immune. Lisa and Robert also have a little hot affair going on, which is quite interesting given that Lisa is black, Heston is not and this is 1971. The Omega Man is known for one of the earliest interracial kisses in film. I really do give the film credit for its courage and conviction to make an important social statement. Cash embraces her role and really lights up the film when she utters her silly dialogue.
The plot can be explained simply since it has been done over and over and over again—most recently in the Will Smith movie I Am Legend. Germ warfare between Russia and China (darn those Russians and Chinese) has resulted pretty much in the apocalypse. Just about everyone is dead or deranged homicidal half-life maniacs with white makeup, clear contacts, painted on sores and baby powder in their hair. Then you can fill in the rest of the details from above—Heston, antidote, kids, blood, etc.
So am I looking forward to the upcoming movies?

Honestly, not really.

I think the complete lack of ambition of The Omega Man was refreshing.

If every other film shares this lack of ambition, then I believe it will get old quickly.

Yet, if these films take themselves too seriously and don't deliver a quality product, then I'm in for an unpleasant time at the movies.

Yes, maybe I'm being a bit fatalistic and damning these films before even seeing them.

Maybe I'll be pleasantly surprised—I hope so!

Unfortunately, the genre remains 70s sci-fi.

Sigh.