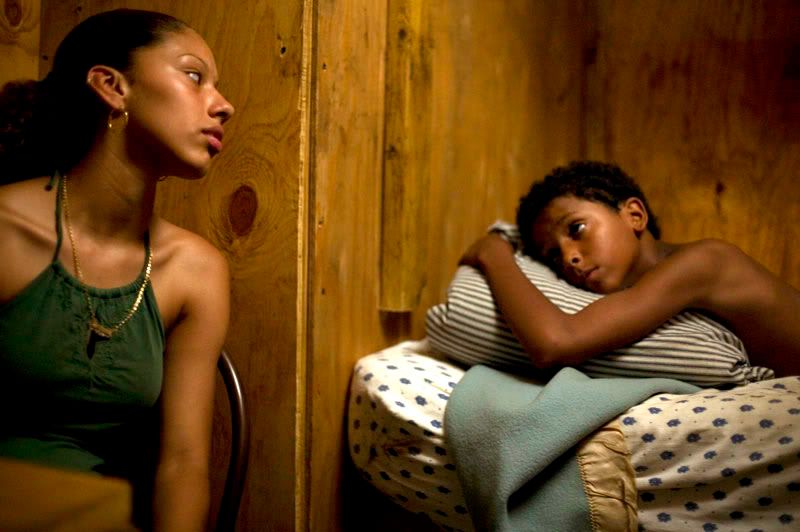 August 13, 2008
Chop Shop (2008) ****1/2
Directed by Ramin Bahrani
Chop Shop offers a story about innocence lost and idealism shattered, while at the same time, it exemplifies forgiveness and familial love. This ultra-independent film by ultra-independent writer/director Ramin Bahrani (Man Push Cart) is quite an achievement. The trust and patience he must have demonstrated with his young actors is really something, considering that there's maybe thirty minutes of dialogue (at the most) in this eighty-four minute film. By the time I witnessed the film's breathtaking, brilliant final scene, I was strongly invested in the lives of the two main characters.
Ale (Alejandro Polanco) is a pre-pubescent Latino street kid from the outskirts of Queens, NY who works and lives in an auto-body shop. He's successfully lived on his own for a long time, but when his sixteen year old sister Isamar (Isamar Gonzales) arrives in Queens, it's clear that Ale is more than happy to share his life with someone else. In a world like the one Ale lives in, only the strong survive. As such, Ale's resourcefulness and determination points to a maturity well beyond his years.
Between legal activities, such as working at the auto-body shop, and illegal activities, such as selling pirated DVD's, swiping hubcaps, snatching purses and assisting in taking apart a stolen car to sell for parts, Ale's determined to make four thousand five hundred dollars in order to buy a dilapidated ice cream truck which he believes will give him the opportunity to start a business in order to provide his sister and himself with a better life. It's clear very early on that Isamar is acting much more recklessly than Ale. More and more, she's out late on the streets of Queens. Both Ale and we figure out that she's prostituting herself in order to help raise the money. Ale, worried about her safety, often resorts to wandering the dangerous streets at night trying to make sure she's okay.
Eventually, they do raise enough money and sign the lease to the run down truck. Unfortunately, with something as complicated as buying a car and beginning a business, both Ale and Isamar's naivety become clear. They are told that there's no way the truck could ever function as a business involving food. All of the appliances are useless, and there are no vents inside, just holes.
You'd think that something so disappointing would break Ale and Isamar's spirits completely, and as we watch the final scenes in the film, we see behavior by both of them which makes us think they're on a serious downward spiral. The question then becomes, "Is there anything or anyone that can save these two children?" It's clear that society can't, and neither can the adults in their neighborhood who don't give a damn about them. So, what's their saving grace?
As I began watching Chop Shop, which was available for instant viewing on Netflix and is now out on DVD, I was put off by the atrocious line delivery by the young actors. Both Alejandro and Isamar have never acted in anything before, and it's clear. The way they speak goes beyond amateur. Awful might be a better word. It might have been wiser for Bahrani to allow the actors to improvise so that their dialogue might sound more authentic. On the other hand, the way everyone in the film, especially Alejandro, carries themselves felt real from beginning to end. Take, for example, a scene where an alarm clock wakes Ale and Isamar up. The way Ale acts in that scene completely comes across as if he's just slept for hours. Every single moment in Chop Shop that doesn't involve characters speaking works brilliantly. Also, after a while, the flat line delivery bothered me less and less as I got used to it.
No film that I've ever seen portrays life in an inner city better than Chop Shop. Also, I can't think of too many films that deal with difficult childhood more authentically. Screenwriters Bahrani and Bahareh Azimi made a brilliant decision by including Ale's slightly younger friend (I'm not sure of the character's name) as a contrast to Ale's maturity. At one point, his friend begs Ale to go with him to the junkyard so they could push each other in shopping carts down the hills. Ale declines this offer saying he's got things to do. What's sad in this scene is the fact that at Ale's age, he should be out playing with his friends and having fun. As resourceful and determined as Ale is, I wouldn't be surprised to see him as the CEO of a Fortune 500 company—that is if he had a life with fewer obstacles and more opportunities.
The final scene of Chop Shop is one of the most beautiful final scenes I've seen in a while. It takes place the morning after Ale confronts Isamar while she's in the act of prostituting herself to an older white man. What could Isamar possibly say to Ale and what could Ale possibly say to Isamar after what transpired? Bahrani's answer—nothing at all. Instead, we see the two of them react to a swarm of pigeons swooping down to eat the seed that Ale just threw on the ground. Look at Ale's face during this scene. The very last moment of the film has Isamar doing something which can be interpreted in many ways. I see it as a rejection of the scavengers that have been using her since she arrived in Queens.
You can't go into a film like Chop Shop hoping for an artificial narrative to keep you invested. Instead, the film is a character study of these street children in an environment that's all too real. It's filmed completely with a handheld camera giving it a low budget documentary feel. I found myself comparing this film to Truffaut's French New Wave classic The 400 Blows. In both films, we see young boys struggling to make it in a world that's determined to break their spirits. While The 400 Blows ends a bit pessimistically, Chop Shop resolves itself with a sense of hope that these resourceful kids will be all right. I believe that Ale and Isamar will come up with another plan which they will execute successfully as well. Hopefully this time, they'll rely on the lessons learned from that ice cream truck—a lesson that cost them forty five hundred dollars.