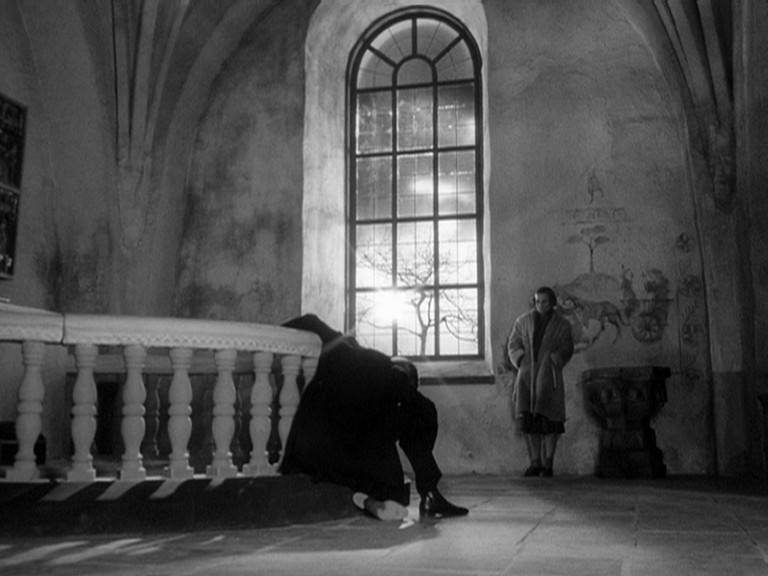 June 7, 2008
Winter Light (1962) **1/2
Directed by Ingmar Bergman
If a director wants to make a film about a man's troubled faith in God, then he better be ready to add something new to what may be the most common conflict in the history of all art. Just think of how many books, poems, paintings and yes even films explore this universal human struggle. Swedish director Ingmar Bergman made the best film I've ever seen on the subject—1957's The Seventh Seal. In that film, he uses provocative imagery and sets the film in the most dramatic of all periods in history—during the Crusades and the Black Death. One of the most iconic scenes in all cinema involves Max von Sydow and Death engaged in a chess match on a beach. Most people might not know about the great scene that follows their game. Von Sydow enters a confessional to confess that he can't believe in God anymore. Death sits in the priest's chamber listening with great interest. The Seventh Seal was exceptionally brave because it wasn't afraid to go big which makes sense considering the subject matter. I guess Winter Light can accurately be described as The Seventh's Seal's infant brother.
Gunnar Bjornstrand plays Thomas Ericsson, a Swedish pastor who has felt emotionally dead since his wife died a few years earlier. His parish, which was once packed, now attracts only about eight people. The first fifteen minutes of the film show the Liturgy of the Eucharist almost in its entirety. Strong close-ups are used throughout in order to emphasize the intimate struggles of the characters. I hated this first scene. There's no sense of ritual. None of these characters looks bored, except for a little kid. Every single face has a look of worry, or anxiety or dread, especially the pastor's. Bergman directs this scene too intensely which makes me think that he wasn't a regular churchgoer. Mass rarely evokes strong emotions, and if it ever does then it does so by accident. The decision to introduce the struggles of the characters during mass seemed too artsy. This may be one of the only films that actually acts out a section of the mass with correct prayers and gestures. Therefore, to use it as a ploy to introduce characters seems to waste what could have been a great innovative scene.
Right after mass, we are shown over and over again how much despair the pastor feels inside. Once we've been hit over the head with allusions, we hear speech after speech reiterating what we already know and understand. A young couple talks to the pastor after mass because the husband Jonas (Max von Sydow) is suicidal and can't get himself out of his massive depression. The pastor, instead of listening, spills his problems out to Jonas, which causes him to leave the church and shoot himself in the head. The pastor's mistress, Marta Lundberg (Ingrid Thulin), tries to cheer Thomas up and give him medicine for his cold. Instead of welcoming her assistance, he goes off on her saying that he doesn't need her to try and take the place of his wife anymore. At a Holy Day service, before it begins, Thomas hears from his groundskeeper that he believes that Jesus' suffering wasn't painful as much as it was about experiencing the silence of God in his disciples' betrayal and in the words, "My God, my God, why have you forsaken me?" Though no one shows up for the service, Thomas begins anyway with what are obviously insincere words of worship and praise.
Too many existential crises are packed into an hour and twenty minutes! Winter Light is almost oppressively grim, which is not helped by the fact that it's set during a very gloomy winter. For me, the journey this pastor takes during the film does not really add up to much, and it definitely does not present any arguments that I haven't heard before. This is considered one of Bergman's best. I have a Masters degree in Catholic Theology, and I conclude that Winter Light is not as smart as many believe it to be. Personally, I'd give the pastor a book of Thomas Merton's writings to cheer him up. I'd also tell him that often people feel God strongly during times of death and grief. Not once in the film did anyone present an argument to try and lead Thomas back to his faith.
Bergman obviously struggled quite a bit with the question of God's existence, and that could very well have been the most profound struggle of his life. He externalizes his internal struggle through this film. The end product doesn't work because the pastor personifies only Bergman's doubt which makes the film feel incomplete. I do know that this is one of three Bergman films that together are called the trilogy of faith. The other two are Through a Glass Darkly and The Silence. Maybe it's necessary to see those films in order to understand all sides of Bergman's struggle. Even so, Winter Light seen by itself feels like a fraction of the film that it could have been. I look forward to checking out the other two films in the trilogy. Though, looking at their dreary titles, I'm afraid I'm going to see repeats of the same hopeless examination of faith that was so disappointing in Winter Light.