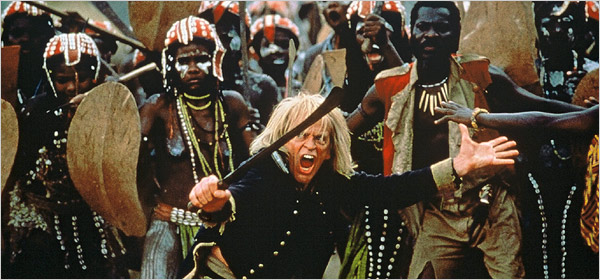 July 23, 2008
Cobra Verde (1987) ***1/2
Directed by Werner Herzog
There's not enough plot in Cobra Verde to make a movie with a solid narrative structure. As such, Herzog's Cobra Verde feels meandering because it relies too heavily on sequences of simple observation. In these sequences, we observe slave labor, nature, superstitious ritual, female combat training and torture as punishment to name a few examples. Similar to Aguirre: The Wrath of God, Fitzcarraldo, Nosferatu and to a lesser extent Woyzeck, Herzog desires perhaps to show these provocative images in order to connect viewers with the film's plot. Maybe, though, it's the other way around with the narratives serving the visual poetry. Either way, all five of Herzog's films mentioned so far all have Klaus Kinski successfully standing out above or at least alongside these uniquely structured examples of the modern German New Wave. Sometimes, when Herzog moves his films along too slowly for my taste, I am able to grasp onto Kinski's perfect over the top performances in order to stay engaged. Kinski was 61 at the time of Cobra Verde's release, and while he looks amazingly strong and healthy in the film itself, his performance here is the least interesting out of the five I've seen him give in Herzog's films. Had he given more, I might have been able to really embrace Cobra Verde. Instead, I was only able to respect its successes from the outside looking in.
At the beginning of the film, we see feared outlaw Cobra Verde enter a town, and by his mere presence, everyone runs away in fear. It's through this panic that we learn that Cobra Verde is known as a ruthless evil man willing and eager to kill anyone and everyone that crosses him. Of course, this is all blown out of proportion which is made clear during a beautiful scene between Cobra Verde, whose real name is Francisco Manoel da Silva, and a physically handicapped barkeeper named Euclides.
From the very beginning, Cobra Verde comes across as a very complicated and lonely man, despite his two-dimensional reputation. Yet, this guy isn't going to be all warm and fuzzy. He's hired by a plantation owner to oversee slaves, and it's here that Kinski impregnates all three of the owner's young mulatto daughters. This enrages the plantation owner, and rather than kill Cobra Verde (which I'm still unclear as to why he didn't just kill him), the owner sends him on a suicide mission to Africa to collect slaves from a village run by a sadistic king known to kill any white man who enters his land. Cobra Verde accepts the offer most likely for two reasons. First of all, they offer to pay him a great deal of money if he's successful, and second, he has nothing better to do.
He journeys to Africa to find the natives clinging ignorantly to superstitions, many of which were brought to them by a Christian missionary. Cobra Verde at first is welcomed and revered because he has weapons to trade, and second, as a white man, they think him a supernatural being. The thing is, their belief is that the devil is a white man as well. Just as Cobra Verde gathers up men to be slaves, he is captured by the king, humiliated and tortured. He's set to die the next day, but instead, he's rescued during the night.
Since the men have already been sent to be slaves, Cobra Verde trains the women to be soldiers in order to overthrow the king. It's these sequences of the women training that are the most memorable as well as the most bizarre images in the film. They succeed in overthrowing the king, and as such, Cobra Verde is made the new king. He's there for many years before his power is quickly taken away from him. Returning to Europe, he realizes the crime he committed by enslaving the natives.
Herzog is known to cast non-actor locals as extras in his films. In Cobra Verde, there has to be over five hundred extras in the film, many of them required to act in over the top ways in order to emphasize the simplicity and superstition of the uneducated African natives of the time. It's during these scenes that I started feeling a bit uncomfortable because of the fact that Herzog seemed to move dangerously close towards exploiting these people. For instance, during the female combat scene, all of the women are nude from the waist up. Yes, that's historically accurate and for all I know, the locals Herzog hired may dress that way regularly. Still, this film has a larger than life element that doesn't make it reliable history. Therefore, I'm not sure that covering these women up would have been all that distracting.
Cobra Verde wants to show the evils of slavery, and for that I applaud it. I also admire its beautiful imagery as well as its provocative execution. I've really enjoyed watching these five Herzog/Kinski films as part of a Filmspotting marathon. The first film I watched was Aguirre: The Wrath of God and its unique style made the film hard to judge. Now that I'm familiar with Herzog's direction, and now that I know what to expect, I am going to revisit that film to see if I can appreciate it more. Cobra Verde is exactly what I thought it was going to be in terms of style and direction. However, I was disappointed by how little I was able to engage with the film. Still, though, Cobra Verde is better than just about anything playing at your average first run movie theater. Yet, it can't be argued that this movie is odd—so much so that I recommend watching at least two or three other Herzog films before tackling Cobra Verde. I don't want its strangeness to turn people off to other Herzog movies.